English: Shunichiro Ito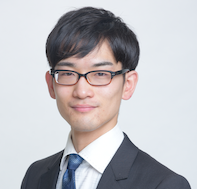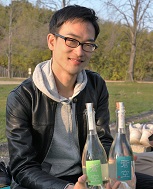 伊藤 峻一郎
(いとう しゅんいちろう)
京都大学大学院工学研究科高分子化学専攻
京都市西京区京都大学桂A3棟404号室
Tel: 075-383-2609 Fax: 075-383-2607
E-mail:ito at poly.synchem.kyoto-u.ac.jp
1992年12月17日生まれ 京都府城陽市出身

2020年1月   京都大学大学院工学研究科高分子化学専攻博士課程修了(博士(工学))
2017年3月   京都大学大学院工学研究科高分子化学専攻修士課程修了 (中條研究室)
2015年3月   京都大学工学部工業化学科卒業 (中條研究室)
2011年3月   奈良学園高等学校卒業
2018年8月 錯体化学会第68回討論会 学生講演賞
2018年4月 日本化学会第98春季年会 学生講演賞
2017年7月 京都大学大学院工学研究科馬詰研究奨励賞
2017年3月 新学術領域「元素ブロック高分子材料の創出」第5回合同修士論文発表会 最優秀発表賞
2016年12月 第6回CSJ化学フェスタ 優秀ポスター発表賞
2015年9月 第64回高分子討論会 優秀ポスター賞
Recent Progress in the Development of Optoelectronic Materials Based on Group 13 Element-Containing Conjugated Polymers.

; Gon, M.; Tanaka, K.; Chujo, Y. In Handbook of Conducting Polymers. Conjugated Polymers: Perspective, Theory, and New Materials, 4th ed.; Reynolds, J. R.; Thompson, B. C.; Skotheim, T. A., Eds.; CRC Press: Boca Raton, FL, 2019; 489-516. (ISBN: 9781138065512).
2019年6月1日 錯体化学若手の会近畿支部 第60回勉強会

「典型元素ジケトイミン錯体の固体発光特性制御に向けた合成・理論的アプローチ」
京都大学 広報誌 工学広報 No.71 2019年4月号 解説記事.